Greeting from the President

As a main player of Kyokuyo company group
Kyokuyo Suisan was established by mother company Kyokuyo in 1997 and engage Tuna purse seine fishing business by five(5) fishing vessels, Sashimi grade tuna processing business, and ULT(Ultra Low Temperature) grade cold storage business.
In 2016,we also started to run the Souemon plant that has the latest facilities for producing tuna.
In addition, with the aim to introduce HACCP,we are striving to produce the safety products in the hygienic environment.

I seek your cooperation and assistance since, we Kyokuyo Suisan always try our best to improve our business operation as a main player of Kyokuyo Group.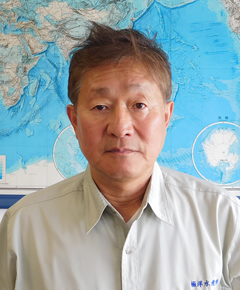 Director
Director
President : Hiroyuki Aoki
Director : Yasunori Shimoichi
     Akihiro Kawaguchi
     Ken Sakai (Part-time Director)
     Hideo Doi (Part-time Director)
     Yasuo Kawai (Part-time Director)
     Taro Kawamoto (Part-time Director)

Corporate Auditor :
     Shuichi Kiyama(Part-time Auditor)
Number of employees
Office staff : 120 persons
Crew member : 129 persons
Sum total : 249 persons(As of July 1, 2017)
Tuna Purse seine fishing Dept.
We operate five(5) Tuna purse seine fishing vessels in particular Wakaba Maru No.3, Wakaba Maru No.5, Wakaba Maru No.6, Wakaba Maru No.7 and Wakaba Maru No.8. We mainly fish in Tropical area of Western Central Pacific Ocean (WCPO) such as EEZ of Papua New Guinea, Federated States of Micronesia, Kiribati, Nauru, Solomon Is., Republic of Marshall Is. and Palau in year around. Our catches are mainly unloaded in Japanese tuna market such as Yaizu(Shizuoka pref.), Makurazaki(Kagoshima pref.) and Yamagawa(Kagoshima pref.). In addition, Wakaba Maru No.5 and No.6 operate in Japan near coastal area so-called KINKAI fishing ground from mid of June to end of August in order to harvest sashimi grade oily skipjack tuna. Most of such catches are unloaded in Ishinomaki port.

Total our catches in recent years is recorded as 28,000mt per year.
A new challenge to mitigate bycatch of bigeye tuna by using Wakaba Maru No.3
Main target species of Tuna purse seine fishing vessel are Skipjack tuna (Katsuwonus pelamis) and Yellowfin tuna(Thunnus albacares), however they also catch bigeye tuna (Thunnus obesus) as bycatch which is considered as overfishing status. Thanks for the financial assistance of fisheries Agency of Japan, Kyokuyo Suisan engaged a new challenge to mitigate bycatch of bigeye tuna by using Wakaba Maru No.3 in order to attain environmental friendly fishing. Abstract of the study paper is show in bellow;
Abstract of the paper
In this paper, a research to mitigate bigeye tuna fishing mortality by using two separate FADs with underwater light stimulus (herein after referred to Double-FADs) was described. This purpose of this paper is to verify effects of decreasing bigeye tuna catch of Double-FADs as compared with common FADs (herein after referred to Normal-FADs). The total number of operation was forty eight (48) including 6-Double-FADs, 8-Normal-FADs and 34-Free school operations, which were conducted by a commercial vessel "Wakaba-Maru No.3" in November and December 2011 in exclusive economic zone of Papua New Guinea and Solomon Islands by using the assistance fund of the Fisheries Agency of Japan. Based on the onboard sampling data, the size proportion of Double-FADs is bigger than that of Normal-FADs in all species including skipjack, yellowfin and bigeye if we count number of fish which weight is bigger than 3.0kg on Normal-FADs compared with Double-FADs. The bycatch rate of bigeye tuna to total number with Double-FADs and Normal-FADs was 6.1% and 8.9% in number, and 7.2% and 14.2% in weight respectively. The number of bigeye tuna in catch of one (1) metric ton is estimated as 24 in Double-FADs and 45 in Normal-FADs. Although sample size and quality is not enough to reach conclusion and to apply appropriate statistical test, these results support that Double-FADs have some effect on reducing bigeye tuna bycatch as compared with Normal-FADs.